Without a FPL Premium Forward
It's the time of the season for 10,000 permutations and combinations. The eternal tinkerer, fpl_obsessed (Matt) ponders one key decision.
---
Why I Would Start GW01 Without a FPL Premium Forward
When I created my very first GW1 draft, Harry Kane went straight in as my premium forward but, as time progressed, I couldn't shake this feeling that I would be better off without him.
The problem is, my own book advises having a premium forward for flexibility but, the more I looked at it, the more I convinced myself that going without a premium forward was the right thing to do.
Here's why:
LACK OF SIMILARILY PRICED OPTIONS
The entire purpose of having flexibility is to enable you to quickly jump to another premium option when it becomes clear that player is firing on all cylinders.
But this season, there is not a single alternative forward option in Kane's price point. In fact, the next most expensive forward is £2m cheaper!
LACK OF DECENT PREMIUM FORWARD OPTIONS
Having flexibility at different positions and price points is highly beneficial, but that benefit is predicated on having viable options to turn to in that price range/position with that in mind, let's have a look at the four most expensive forwards:
VARDY (£10.5m)
Vardy worked well for me last season, but with both his age, and his price, going up, I just don't fancy him at all this year. With Daka coming in, Vardy will get reduced minutes.
AUBAMEYANG (£10m)
A steep price for a player who badly disappointed last season. As Arteta continues to grapple with Arsenal's tactical identity, I am going to steer clear of expensive Gunners' assets.
FIRMINO (£9m)
"A great player. A lousy FPL asset." That is what I have always said about Roberto Firmino.
I also see his minutes coming more under threat with Jota in the squad. Not even tempted to be honest.
WERNER (£9m)
One to look out for this season. Chelsea has a rough start to the campaign, but something tells me that this could be Werner's season.
At £3.5m less than Kane, Werner is actually closer to the mid-range price bracket than the premium, so if you want him, he won't be hard to afford.
TO KANE OR NOT TO KANE?
So, with the other options discounted, it really becomes a question of 'Do I want Harry Kane?'
I think the answer to that is, if you've got him, then he will return for you, but I really like what you can do to your squad without him.
With no Kane, I don't have to choose between Salah and Bruno and have enough spare cash to invest in some of the more attacking full-back options.
It is, of course, possible to fit Salah, Bruno AND Kane, but I think the rest of the squad suffers disproportionately.
There you have it, my justification for a squad with no premium forwards. For reference, here is my current draft: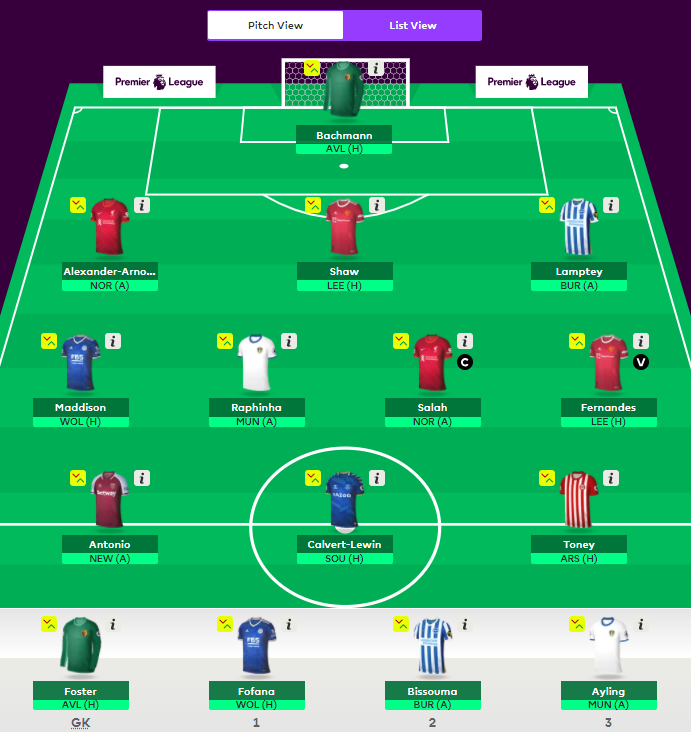 FPL enthusiast for 15 years:
Best OR: 2,489 (2010/11)
Season Finishes:
1 x Top 10k | 1 x Top 50k | 2 x Top 100k | 5 x Top 250k